The theme song is already in your head, isn't it? It got lodged there for me as soon as I found out that we were getting a new Samurai Jack game. Samurai Jack: Battle Through Time is the latest from Soleil Ltd., published by Adult Swim Games. They previously made Naruto to Boruto: Shinobi Strikers.
The conceit of this game allows them to make Battle Through Time a clip show – you dodge, roll, and slash your way through Jack's greatest hits. It does this by interrupting the final battle in the new final season of Samurai Jack, so spoilers abound if you haven't watched that yet. Jack must fight his way through his memories, whether it's meeting the Scotsman or fighting Demongo, the Soul Collector.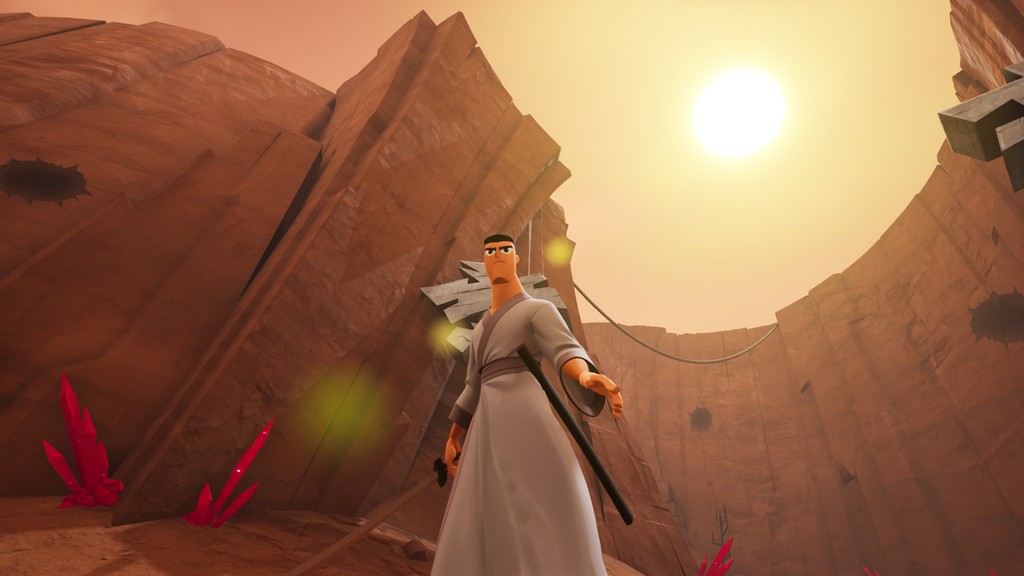 The gameplay feels like a PS2/Gamecube-ish sort of action beat-em-up, in a good way. Once in a while the camera gets wonky, but on the whole it works. One tip I'll give you – use all the weapons. I loved Jack's iconic look with the sword but you get materials to level and skill up by using the other weapons.
The main story took me just under six hours to complete. There are challenge modes and collectibles, but I don't feel the combat was SO good that I need to re-play levels or do the challenge modes to get all the achievements.
The graphics work well. It's always difficult to translate a 2D traditionally animated show to 3D for a game, but they were successful here. Every voice actor is back except for Mako as Aku (may he rest in peace), but they have Greg Baldwin filling in, as he did for Uncle Iroh in the past.
Samurai Jack: Battle Through Time was a fun romp that took me back through all of Jack's history. For me, $39.99 is probably more than I would spend on it (but YMMV if you enjoy this kind of action beat-em-up more than I do). It's available on all the typical platforms, PC, Switch, PS4, and Xbox One. Thanks to Clara at Sandbox Strategies and the developers for the code to review! If you'd like to see my playthrough of the main story, this is the YouTube archive: