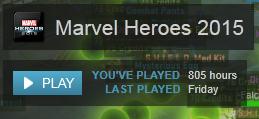 Note:  I looked at Marvel Heroes before, but the game has changed even more since then so I'm starting fresh in this article.
I tried Marvel Heroes when it first came out (it didn't have the '2015' in the name then) but only played about 20 or 30 hours before setting it aside.  Loved the subject matter and style of game (Diablo with Marvel super heroes?  Sold!) but the execution just wasn't there.  I kept on the e-mail list though, curious to see if the game would die out or come around, and ended up trying the game out again after I got a message about an event that sounded interesting.  As you can see, I'm hooked.
If you are not familiar with the game, Marvel Heroes is an action-RPG where you can play as one of forty different Marvel super heroes and villains.  If you've played the Diablo or Torchlight series, you know the style of game.  The difference here is MH is a free to play massively multiplayer action role playing game.  An 'Action RPG' is just a role playing game where you click on enemies to attack them, using various abilities directly, rather than selecting attacks from a menu and watching them happen.  'Massively multiplayer' just means hundreds to thousands of users are playing alongside you, though in practice most places you go split you into manageable chunks of players in a particular zone.  'Free to play' means you don't pay up-front for the game but you can buy stuff, but unlike many games that make F2P a hated term, Marvel Heroes handles it pretty well.  A currency drops every 8 minutes or so, and you can use that to unlock every hero in the game, and many other things like some team-ups.  The main thing you end up running short of is storage space.  You have your inventory, your team-up inventory, and one 'STASH' but if you tend to keep interesting gear or play a bunch of heroes, you'll want to chip in some bucks for extra space.  However, by the time you get to that point you'll know for sure whether or not you like the game.
In my previous look at the game, I mentioned that the characters hewed pretty close to the standard Diablo archetypes (Ranged, Melee, Pet class) but I'm happy to report that as they've gone on, the characters have gotten more and more creative.  Rogue in particular is a ton of fun, as she can steal powers or knowledge from over a hundred heroes and villains in the game – the ultimate in customization.  The unstoppable Juggernaut was just released, and uses his momentum to power hard-hitting movement powers.  The devs are also deep in a process of completely revamping the earliest heroes to bring them up to the level of fun and uniqueness of the newer ones.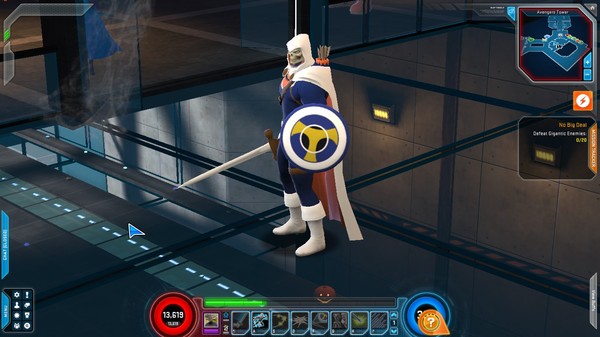 The story is fun the first few times through, with motion comics as the cutscenes at important spots.  Gazillion has tried to hit all the high notes in Marvel's stable as far as enemies go, so you fight everyone from Shocker, Doc Ock and the Kingpin to Loki, Doctor Doom and Magneto.  Eventually as you gather more characters, you will not want to just go through the story over and over, and there are more options.  For instance, there is a Midtown Manhattan patrol (and within a few weeks, another Patrol map) where boss fights occur every few minutes.  Holo-Sim pits you against waves of enemies or boss events either solo or with a partner, which X-Defense lets you defend Xavier's mansion against threats.  Gaz has also released two 'One-Shot' stories that exist outside of the story, the Wakandan Mines and the Bronx Zoo, which added the Lizard, Kraven the Hunter and Mr. Hyde.  They also set up 'terminals' where you can fight harder versions of some of the story chapters, with chances at better classes of loot or special drops from the bosses.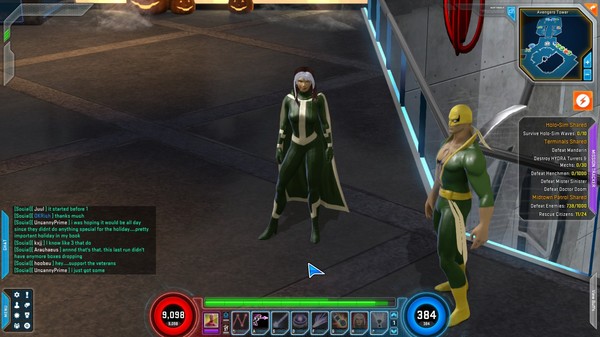 There is raid content too, though I've never done that – I have too much fun playing each character to the cap and trying the next one.  Cyclops is next, after I finish Taskmaster and Rogue.  I'm also excited for the characters coming this year, as the Winter Soldier, Iron Fist, War Machine and Blade are all on the way.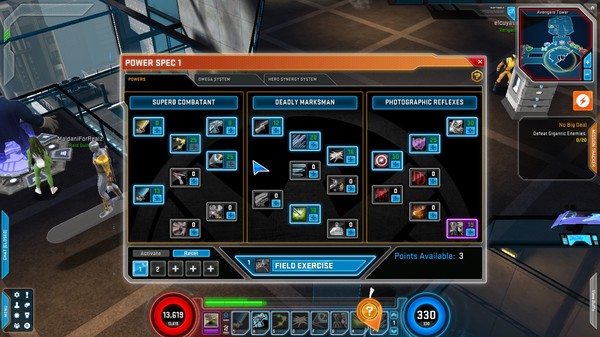 Thanks for reading, and be sure to check out our Random Hero box giveaway!