Well, it seems like the show has barely started, and we are already at the season finale.  This Saturday at 11am, we see the endgame with Amon and Korra.  From the previews, it's clear that there is a HUGE battle involving battleships, planes (launched from General Iroh's ships?), airships, and who knows what else.  We see Mako being ridiculous again, having a deep, meaningful moment with Korra while I presume Asami is in the next room over stewing.  The hobo in the bush makes an appearance, sheltering Team Avatar and showing off a makeshift town under the city with benders and non-benders living together.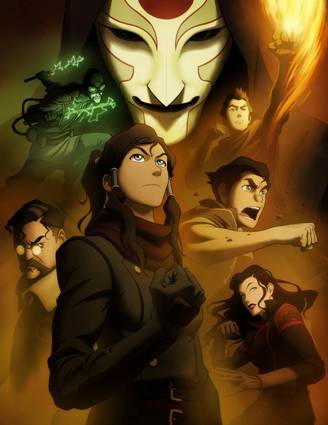 Here's a recap of recent events:  Tarrlok's bloodbending was found out, and Korra escaped when Amon and his thugs found Tarrlok and took his bending.  Amon and Sato attacked Republic City with airships and attempted to capture all of the remaining Council members, but Tenzin again fought off the chi-blockers sent to subdue him.  It seems airbending might be the best defense against the Equalists, as they have little information on how to fight back against it, and the blasts of air can keep them out of hand to hand range (where they could actually chi-block Tenzin).  All the more reason to hope Korra breaks through with that for the finale.
Lin Beifong, with the help of Tenzin and Team Avatar, rescued her de-bended metalbender cops, and then helped defend Air Temple Island during the attack by Amon.  The airbender kids helped ably, aiding my theory that the Equalist chi-blockers have no way information on dealing with airbenders.  Tenzin takes his family on Oogi and tries to escape, but is pursued by airships.  Lin Beifong, in a touching sacrifice, leaps off Oogi and begins wrecking the Equalist blimps (Beifongs hate airships!).  She is captured, and Amon takes her bending away.  I admit, this more than anything affected me.  Lin became one of my favorite characters these past few weeks, and seeing this hurt.
But they couldn't leave fans with that heartbreak as the only thing to carry them forward to the finale, so there is one more scene.  A flotilla of ships, called in by Tenzin, and the general in charge…named Iroh.  Voiced by Dante Basco, Zuko's grandson leads the fleet and will be key in helping to liberate Republic City.
My predictions for Saturday's episode:  Team Avatar, after some relationship drama underground, perpetrates some guerilla attacks from within Republic City while Iroh's 'United Forces' fleet attacks from the harbor.  Korra will break through with airbending, and faces off with Amon.  He attempts to take her bending, but she finally goes into the Avatar state and resists it.  There HAS to be a reveal here of who Amon is, as you don't keep someone behind a mask for this long without it meaning something more than "I was burned by a firebender".