The above picture shows a happy time, with Korra and Asami bonding like sisters (or depending on how you 'ship', something more).  It's pretty much the last happy moment Korra will have in her life.  I might be exaggerating but not by much.  Book 4 starts tomorrow so if you aren't caught up, here are my long-delayed Book 3 thoughts.
After the uneven Book 2, Korra had left the Spirit Portals open, and Book 3 dealt with some of the ramifications of that.  Korra is maturing, but it's still tough to be the Avatar in a rapidly progressing world.  I thought the antagonists of this season, the Red Lotus, were fantastic.  Varied, with real personalities that could shine through.  Too often the bad guys in a cartoon are a faceless organization or you have one guy who has to carry the villainy.  We had the 'one guy' method with the first two books with Unalaq and Amon, so this was a nice change.  Henry Rollins was downright creepy voicing Zaheer.  I got chills when he said he had 'entered the void' after witnessing the death of his love, P'Li.
The final battle between Zaheer and Korra was every bit as action-packed as Aang versus Ozai – it even recalled that fight visually with the pillars of stone.  Korra fought valiantly but the poison Zaheer used on her took too much of a toll.  Zaheer was taken down by the airbenders though, with Jinora at the lead – earning her arrow tattoos! – and Suyin was able to metalbend the poison from Korra just in time.  It appeared to be mercury.  Mako and Bolin both take out the other Red Lotus members – with Mako FINALLY getting a chance to be clever, and using a burst of lightning on Ming-Hua while she was in water to subdue her.  Loved that moment for him.
Two weeks later we see a wheelchair bound, depressed Korra appearing at the ceremony for Jinora.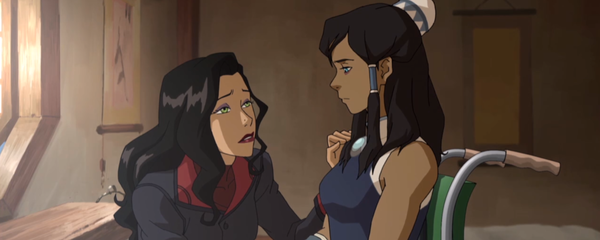 Moreso than the physical toll the combat and poisoning took on her, it's her mental well-being everyone is worried about.  And I know Tenzin was trying to help when he told her that he, Jinora and the airbenders would take care of things while she recovered, it had to feel like a "we don't really need you" to an already depressed Avatar.  Seriously, this is how Book 3 ends: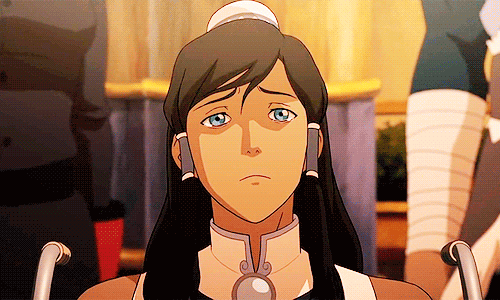 So where will Book 4 find Korra?  It's three years later, and the Air Nomads, ably led by Master Jinora seem to have things in hand.  From the first few minutes put online the other day, Republic City has adjusted to the spirits, and Asami helped rebuilt things with Future Industries.  Beyond that, we don't know a lot.  The trailer shows a ton of images of Korra up and moving, but seemingly fighting against herself.  Is Kuvira (one of Suyin's trusted metalbenders) the bad guy?  Does Zaheer escape custody?  There's very little to go on for enemies from what we've seen, but it sure looks like it's shaping up to be a dynamite final season.