Creative Team:
Writer:  Tom King
Art:  Gabriel Hernandez Walta
Colors:  Jordie Bellaire
Letters:  Clayton Cowles
Much of the unease and tension in The Vision thus far has come from what we haven't seen as much as what we have.  Tom King and company pulls that trick again here in The Vision #6
.  Again, we get the mundane – neighbors George and Martha and a lost dog – which escalates into something much worse, all framed by the narrator's description of the classic computer science problem P vs. NP.
There's a lot of reveals in this issue, as there should be for the final issue of an arc, but it also sets up the (sadly) final arc for Tom King before he goes DC exclusive.  We learn who the narrator has been and Vision discovers what Virginia did to the Grim Reaper.  That's where P versus NP comes in – the Vision chooses to keep trying to fix his family, to keep them safe so they don't get dismantled or taken from him.  By the end of the issue, the various Avengers/Ultimates are made aware of Vision's choice, and well, Agatha Harkness says it best: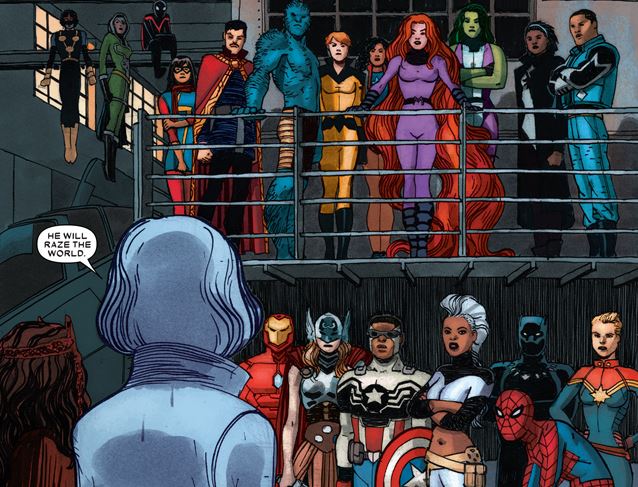 If you've been enjoying the comic but wishing for more punching/blasting, I think you are about to get it.  Yikes.  At this point I can't see this ending well for anyone involved.  I have to see it, but I don't want to see it.  Especially for Viv who seems to have suffered the most.  I'll be devastated if she doesn't make it out of this.