I know what you are thinking – didn't we just leave this party?  And the answer to that is…complicated.  I am talking about the original Secret Wars
from 1984-1985 today, one of the very first big crossover events at the big publishers.  It debuted 32 years ago, though you can't tell from the May date on the cover.  If you've already read the new event, you'll find some similarities here.  Doctor Doom and Owen Reece (the Molecule Man) are important, there's a Beyonder (who may or may not have anything to do with THE Beyonders), and a bunch of heroes and villains fighting on a Battleworld.
But should you read it?  I lean towards yes, if you can keep in mind that it came out in the mid 80's.  There's a lot of narration and expository babble, but there's a decent job done to give the big players their due.  Jim Shooter's story was fun but in the end, little changed for the Marvel U as a whole.  Spider-Man, however, had one HUGE change come out of this: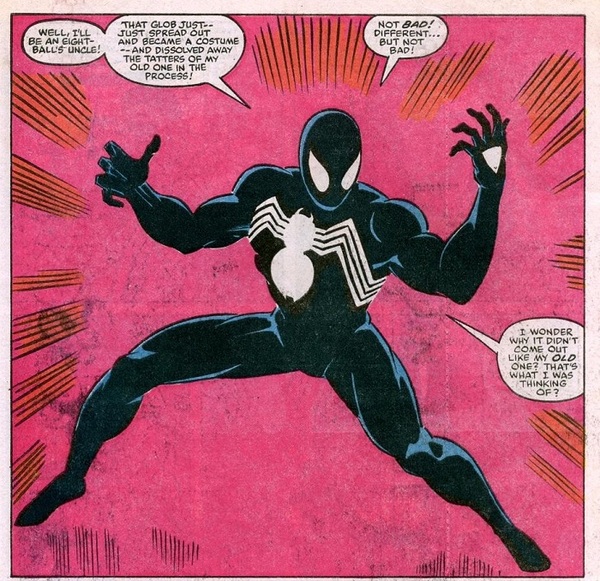 Parker OBVIOUSLY had never seen a sci-fi movie at this point – never, never, NEVER stick your head under something spraying out black goo.  And eff you, Thor and Hulk, for not being more specific about which device makes clothes and which one sprays out goo monsters.