I've got a bit of free time on my hands, so I am going to try and write more – and I thought I'd start recapping some of my favorite shows.  First up, Agents of SHIELD!
AoS season two dealt with the Inhumans, and the fact that Skye (now known by her real name, Daisy Johnson), was one of them.  It ended with Jemma Simmons sucked into a Kree monolith, Coulson with his arm chopped off, Ward looking to take over HYDRA, and May taking off.  And oh yeah, Terrigen seeping into the oceans, potentially setting off Terrigenesis in every potential Inhuman.
In fact, Season 3 kicks off with a scene of a normal dude fresh from his Terrigenesis – Joey (gotta be a version of The Melter, right?) is turning metal to liquid all over the place, but he doesn't mean to.  He's terrified, and it doesn't help when a black-ops team rolls up.  Daisy, Mack, and Hunter show up to extract Joey however, and we get to see the full power of 'Quake'.  Though she isn't yet called that.  This show needs Cisco from the Flash to pop by to give everybody their names.  Coulson is on hand (ha!) to snap a picture of the leader of the opposing team so they can identify her.
This leads to two separate scenes that dovetail together nicely – Mack and Daisy are sent to get Lincoln back to help deal with Joey's transition (they kind of stink at it), while Coulson and Hunter attempt to capture the shadowy lady in charge of the black ops team.  Coulson and Hunter get the tables turned on them, but it's okay as Rosalind (as she is calling herself this time around) is talking, not shooting.  As they flirt/banter, both Coulson and Rosalind figure out the the other is NOT, in fact, the one killing Inhumans…and Lincoln, Daisy and Mack meet who is: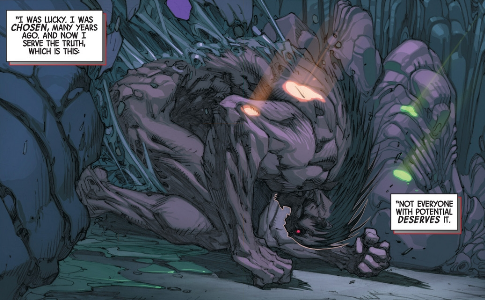 This is Lash, a fairly recent addition to the comics.  I chose this panel specifically as I am fairly certain Lash's motivations in the comics will match up with his AoS version – that all of the new Inhumans popping up are not worthy of Terrigenesis.  The three heroes barely escape Lash after Daisy cleverly uses her powers to drop him through the floor, while Coulson and Hunter engineer their escape when Rosalind is distracted.
There's also a running story with Fitz, travelling the world looking for clues on getting Jemma back from the monolith.  He's got little to lose, and risks his life to get a scroll from arms dealers, only for it to turn out to be less than helpful.  When he finally gets back to SHIELD, he breaks down, busting in to the sealed room where the monolith is, and has an epic freakout.  For a lot of other guys, it would come off as corny or over the top, but Iain De Caestecker as Fitz pulls it off.  The show ends with Simmons running from her life on what appears to be an alien moon.  She's cut, and she smears mud on it quickly which seems to indicate an animal is chasing her?  And is she in orbit of Hala, perhaps?
It was a great start to the season, and I'm dying to get more on what is happening with Simmons.  And May.  And Ward.  And the "ATCU" (HAMMER?  SWORD?).
Random thoughts:
A shotgun-axe sounds like the lamest Final Fantasy weapon
Lincoln shares a last name with one of the names Coulson and the team found 'Rosalind' under – her real name, and her son is Lincoln?  Or a red herring?
The laws of nature getting broken came up a lot, and all I could think of was this: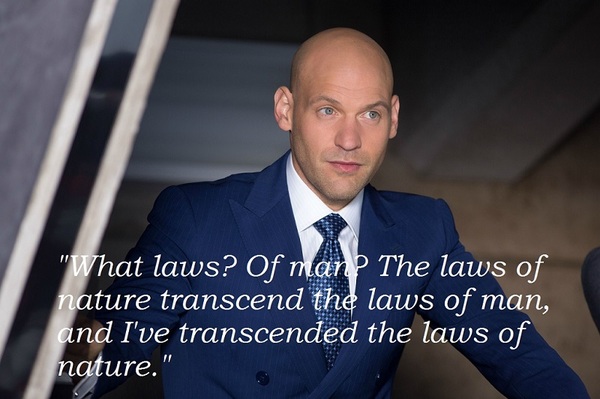 Now, I don't think Cross survived his trip to the microverse, so it's mostly just coincidental, but it was fun to ponder.  On to next week!