Roger Ebert is one of the few critics I play attention to.  I don't always agree with him, but he thinks really hard on even the silliest movie he has the misfortune to see.  That is, most of the time.  He didn't review Thor officially, but mentioned in his 'Journal' today.  I can understand him not being familiar with the source material – neither am I, really, as I never read Thor's standalone books – and it's really not necessary for this movie.  Most of what you need to know is laid out for you, and if you don't get that the 'Barton' dude carrying a bow is a reference to Hawkeye, so be it.  You'll figure it out later.  But check this:
In the arena of movies about comic book superheroes, it is a desolate vastation. Nothing exciting happens, little of interest is said, and the special effects evoke not a place or a time but simply…special effects.
A 'desolate vastation'??  I might save that for Elektra but Thor wasn't a bad movie.
Thor to begin with is not an interesting character. The gods of Greek, Roman and Norse mythology share the same problem, which is that what you see is what you get.
This I agree with, but I thought there was enough interest with the byplay between Thor and Odin, and Thor and Loki.  Different strokes.
The land (sphere? state of mind? heaven?) known as Asgard is described in Norse mythology as being near Troy, or perhaps in Asia Minor.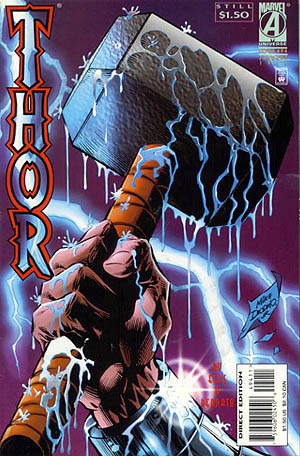 Uh, in the MOVIE, it was explained pretty clearly 'where' Asgard is and how it connects to the other realms.  Roger also missed both the scientific description of the Bifrost and Thor's own description of it, as that confused him too.
Later there's a meteoric event in which Thor's hammer hurtles to earth and becomes embedded so firmly that it can't be pulled lose by a pickup truck or even the federal government.
Again, there's source material that could help with this, but I thought it was made pretty clear that only someone WORTHY of wielding Mjolnir could lift it.  "Whoever wields this hammer, if he be worthy, shall possess the power of Thor."  You hear that, you see everyone NOT lifting the hammer, you get it, right?
Thor luckily speaks English and Jane and her friends take him to the local diner, where he eats lots of Pop Tarts and, when he finishes his coffee, smashes the empty cup to the ground. "We don't do that," Jane explains as if to a child, and advises him to simply order another cup, after which he apparently absorbs human behavior and the movie drops the Taming of the Thor angle.
Yes, he speaks English.  As a god-like alien whose people have traveled to 9 different planets over thousands of years, he might've learned it.  If you're wondering how he eats and breathes…
The three scientists are thin soup. Jane flirts demurely with Thor, Darcy stands next to her and does nothing very important, and Dr. Sevig regards them gravely and looms slightly above a low-angle camera while looking on with wise concern
This I agree with, but I think both of the ladies are pretty cute, and Dr. Selvig does his job okay.  Always seems out of breath, though, he should see a doctor.
Superhero movies live and die on the quality of their villains. "Thor" has a shabby crew. The Frost Giants spend most of their time being frosty in their subzero sphere of Jotunheim and occasionally freezing their enemies.
Admittedly, the Frost Giants didn't impress me, not seeming 'giant' enough.
Thor's brother Loki (Tom Hiddleston) is dark-haired, skinny, shifty-eyed and sadly lacking in charisma.
The Trickster god, he does a solid job of manipulating everyone, but he's not a match in a direct fight, so he doesn't.
These villains lack adequate interest to supply a climactic battle, so the plot provides a Metal Giant, sends him to the New Mexico town, and has him blast fiery rays that blow up gas stations real good but always miss his targets. He is apparently stopped by a sword through his spine, but why does he need a spine since when his mask lifts we can see his head is an empty cavern?
The Destroyer is stabbed by a spear, and doesn't get killed by it.  Just wrong.  Look, there's more here that doesn't make sense but I guess I expect more from Roger Ebert.  I don't expect you to read years of back issue comics to understand a comic book movie, but that's not required here.  Just watch the movie.  It's not the best comic book movie, but it IS a good one.