I took my daughter to go see Brave yesterday, and we both enjoyed it immensely.  She is four, and there were some slightly scary scenes where she hid her face in my shoulder, but she was rivited the rest of the time.  Just an FYI if you have a sensitive kid.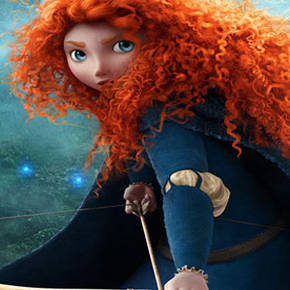 It's an interesting movie for older kids to watch, as it really deals with taking responsibility for your own actions, and their effect on others.  More than once, Merida (the daughter of a Scottish King and Queen) thinks only of herself and makes choices that put the people who lover her in grave danger.  She visits a witch to make some changes to her life, and you can imagine how that goes.  She has to race against time to try and put things right, not only to save her own family, but to keep the peace between the clans.
The visuals in Brave are stunning, some of Pixar's best work.  It's funny to think of how much they talked up Sully's hair way back in Monster's Inc., to see how easily they can create Merida's unruly mop of hair now.  The movie is amazing to look at, showing just how far CGI has come.
Like most of Pixar's non-Cars work, it's must-see in the theater.  If your younger kids are particularly sensitive about scary images, it might be best just to take the older ones, but see it.