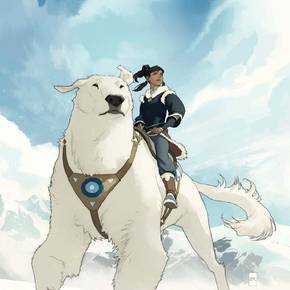 *whew* That's quite a title.  I got a chance to check out the book thanks to a review copy from Netgalley, and it's great.  I love The Legend of Korra almost as much as its predecessor, Avatar: The Last Airbender, but I'm also fascinated by the creators, Bryan Konietzko and Michael DiMartino.  Whether it's fun sketches, behind-the-scenes pictures, or deep thoughts about story and plotting, there's always something interesting coming from them.  The Art of the Animated Series is no different, other than adding in the insights of artist Joaquim Dos Santos and some beautiful art from Ki-Hyun Ryu.  DC comics fans would know him from his work on the Justice League cartoon, as well as the DC Showcase shorts.
The book begins with the early development of the show, including early character design for Korra, Mako and Bolin.  Asami was totally going to be a bad guy, by the way, but they liked her too much, and I agree.  Team Avatar always needs a non-bender.  From there, it continues on through each episode of the show, highlighting new characters and places as they appeared, all accompanied by little insights from the creators.  For instance, Shiro Shinobi (the pro-bending announcer guy) has 'Larry King' shoulders.  The attention to detail as they point out something they thought about and put in (and yet would be impossible to see unless you were looking REALLY hard) is impressive.
If this sounds like something you'd like, get your copy here.