Creative Team:
Writer:  Tom King
Art:  Gabriel Hernandez Walta
Colors:  Jordie Bellaire
Letters:  Clayton Cowles
Last month, the cover shown for this issue
(shown in part above) seemed to indicate the arrival of the Avengers and the beginning of the final battle.  Well, as usual expectations are twisted.  There IS a new arrival, but it's Victor Mancha, Runaway, former Avengers AI member with the Vision when he was not exactly this version of the Vision (long story), fellow 'son of Ultron'.  He's got an internship on the Hill, you see, and he'll be staying with the Visions for a while.
Taken at face value, the issue unfolds with little excitement.  Victor has a moment with each family member, getting to know them.  It's gotta be weird for him, finding a whole set of new 'family members' created and living this seemingly normal life.  Even with only being shown short interactions with each of the Visions, Victor can't help but see that something is off.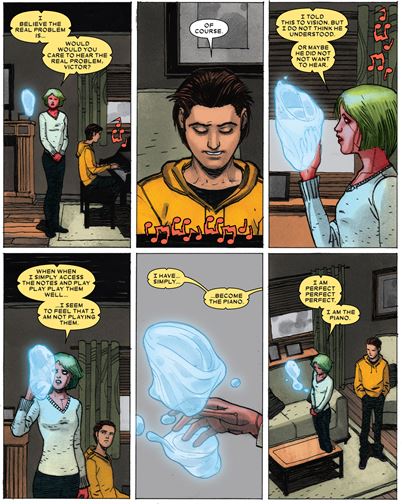 The reveal in the final pages will have you going straight back to read the story again, viewing the conversations in a new light.
I find my self dreading the end, because I'm afraid something might happen to Viv.  She's seemed the most like a normal teen throughout this whole story, and has gone through a lot…and I can't see anyone in the family left unscathed, with what we have been told all of this is building up to.  Kudos all around, especially to Walta and Bellaire for art this week.  I love the little details, like you see above, Virginia's hand passing through the vase, the way she's standing inside the coffee table.  Or the face on one of the other diners as they 'eat' in a restaurant, nervously looking over his shoulder.  The tension just keeps building.