Creative Team:
Writer: Skottie Young
Art: Skottie Young
Colors: Jean-Francois Beaulieu
Letters: Nate Piekos
What would happen if Dorothy never left Oz?  If she was looking for those damn ruby slippers for the rest of her life?  That's the premise of Skottie Young's I Hate Fairyland
, which follows Gert, and young girl who makes a wish and finds herself spirited away to a land of fluffy cloud-giants and slugs that have riddles.  The Queen tells her there *IS* a door out, and all she has to do is go on a quest to find a key…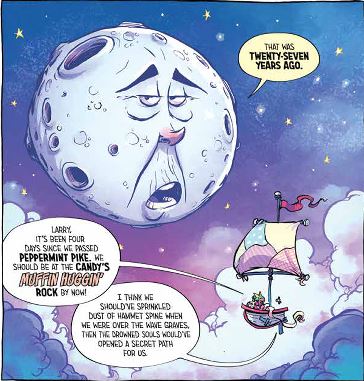 …obviously it didn't go to plan.  Now Gert, who's nearly 40 chronologically but still looks the same as the day she arrived, lays down a path of destruction as she tries anything, everything to get out of Fairyland.  Vulgar and violent, Gertrude is often her own worst enemy in her quest, but it's hard to stay sane and level when you are constantly surrounded by Giggle Giants and talking mushrooms.
If you think you'd enjoy the idea of Deadpool visiting the land of Oz, check I Hate Fairyland
out.  And as always, thanks to NetGalley for the copy to review.