Sometimes, the heroes can get a happy ending.
That's my takeaway after reading Secret Wars #9.  Sure, they saved the multiverse, put things back the way they are supposed to be, but Secret Wars really felt like a love letter to Marvel's first family.  At the end of all things, we get Reed and Doom fighting, and it's not even about the stretchy punches and magic as it is the words.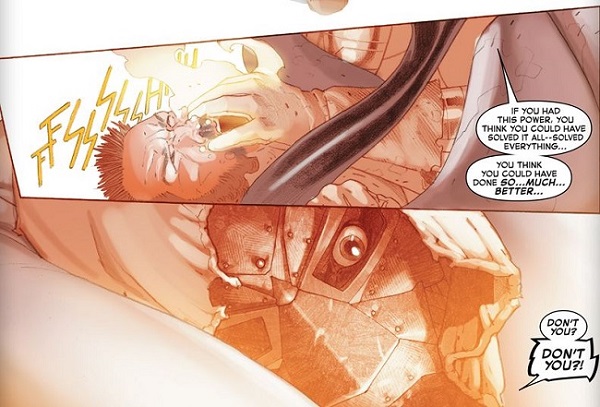 Yes, and Doom knows it too.  Admitting this causes Owen Reece to decide to give the power of the Beyonders to Reed, who does what Victor couldn't – be a creator without being God.  Remake the universe, fix things…and let go.  Reed, Sue and the Future Foundation kids are using Franklin's ability to create new universes to remake the multiverse.  No more superheroes for now, but scientists and explorers.  Johnny and Ben are still kicking around, of course, but this feels like a fitting end (for now) for Reed and Sue.  They've been through so much in the past 10 years or so, I think it's a good play to keep them sidelined for now until the perfect writer comes along who wants a crack at them.  And if that coincides with Marvel getting the rights back or making a deal for them, well, even better.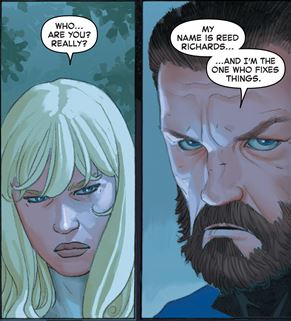 As for the rest of Secret Wars, I really enjoyed it.  Yes, the mainline book ended up a bit overstuffed.  A few too many characters got a look, but it's easy to forgive as Hickman's ideas and Ribic's art worked so well together.  The other books range from so-so to amazingly fun, though I am a sucker for these re-imaginings and alternative takes on heroes, but honestly, just look for the ones you think are interesting and read 'em.  You can safely ignore the ones that don't matter to you.  But really, Cap and Devil Dinosaur?  Weird-World?
At the end of the day, I feel like Secret Wars (2015) was worthwhile.  The first block of issues have hit Marvel Unlimited if you are a subscriber.  Otherwise, check out the hardcover when it hits.