I don't talk about or review Android games very often here, mostly because I'm usually the last guy to try one.  But I want to speak about two games today, and the sharp contrast is enjoyment that has nothing to do with the games themselves.  Both Tiny Death Star and Heroes of Dragon Age are based on franchises I enjoy.  Both games are technically 'free to play' as well but oh, that's the rub, isn't it?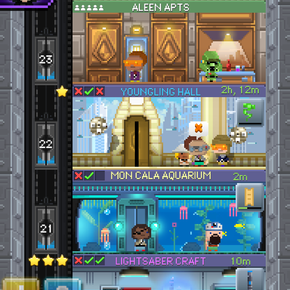 Tiny Death Star is game by Nimblebit via Lucasarts, a Star Wars spin on the company's Tiny Tower.  The 8-bit pixel graphics are cute, with animations to match.  You need coins (earned from the levels you build as the game progresses) to buy new levels, and each one costs more than the next.  However, as more levels means more cash, there's a progression.  The 'bux' (the currency you can buy with real money) can be earned by playing the game as well as by spending real cash.  It never seems like it's hopeless if you want to get the updated elevators or whatever else you can buy with bux without spending real money, but if you want to, go for it.
That's a stark contrast to EA's Heroes of Dragon Age.  What amounts to a collectible card game with 3d graphics, I had a lot of fun building my squad of heroes and creatures.  The missions weren't much more than a wall of text and a battle screen, but I enjoyed it.  Until I got to the first mission on the Carta map.  It's got me ground to a halt.  I've been going back through the missions again, grinding away at the missions to get the crystals you can use to buy new randomized characters, but it still hasn't helped.  There's no progression, it just stops.  I am fairly certain that what I need is one more high-end character, but it might take weeks of useless grinding until I luck out and get something the one thing I need.  It stops being fun, and that's kind of the point, isn't it?
Heroes of Dragon Age interested me as I hoped it would tie in to the forthcoming Dragon Age: Inquisition in some way.  It comes off feeling like a blatant cash grab for impatient DA fans.  Tiny Death Star is fun just on it's own, but that can be enhanced optionally with cash.  Guess which one I'm still playing?