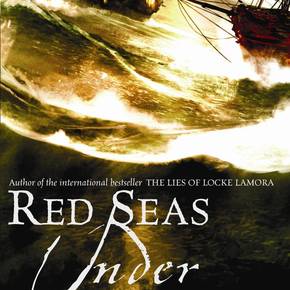 Okay, my friends had been recommending this series to each other for years, and when I saw the third book was available on NetGalley, I jumped in and started reading.  WOW.  This is some great fantasy writing for sure!  Take Ocean's 11, add in magic and alchemy, stir with swords and hatchets, and you've got the gist of it.  The stories follow Locke Lamora and his best friend Jean, as they lead a life of long cons and thievery.  Each book intersperses the 'present day' chapters with a story from the past that helps illustrate the central pot of each novel – it works because the more you learn about Locke, Jean and the other 'Gentlemen Bastards', the more you want to know how they got the way they are.  The downside is, the main plot gets delayed, but soon enough you'll like the characters so much you won't really care.
I won't spoil the books, but they are filled with daring capers, weird magic and alchemy, disguises, loves lost and found again, and a man killed by a leaping shark.  And that last one wasn't even in the awesome pirate-themed second book.  Many of the twists and turns were jaw-dropping, and I couldn't wait to see how they resolved things.  It's really great fun, and a great palate-cleanser if you've been reading denser, more grim or serious fare.  Not that there isn't grim, serious moments here but damn if it isn't funny and action-packed too.
The first two books, The Lies of Locke Lamora and Red Seas Under Red Skies have been out for a while now, and the third, The Republic of Thieves, comes out October 8th.