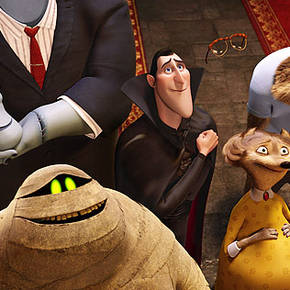 We saw Hotel Transylvania recently, and I was surprised at how much I enjoyed it.  Adam Sandler voices Dracula, who, it turns out, isn't such a bad guy.  He just wants to raise his daughter Mavis (voiced by Selena Gomez) in peace, so he builds a monsters-only hotel surrounded by layers of defenses to keep the outside world at bay.  It works for the first 118 years of her life, but of course, a human gets in and hilarity ensues.
I was nervous about whether or not Genndy Tartakovsky's style could translate to a 3D animated film, but the Samurai Jack creator did great in his first feature.  The action scenes are a strong suit but it's well-balanced by some surprisingly poignant moments.  I can't say that the animation itself was on par with Pixar, but definitely respectable – right there with Illumination's Despicable Me.  You have some great side characters, though I think Kevin James's voice sticks out a bit instead of blending in. 
If you have kids, it's a good way to spend an afternoon.  It won't probably become a smash hit, but it'll be a movie you'll enjoy watching at Halloween every year.  Now let's hope Genndy can get that Samurai Jack movie back in production!