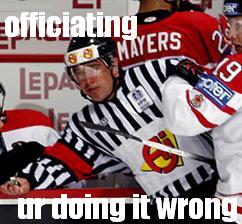 I got to watch Team USA take on Finland at the World Championships in Halifax, NS, but I kind of wish I didn't. Team USA was holding on to a 2-0 lead on the back of Robert Esche, despite getting outshot by the Finns. Ville Koistinen shot the puck at the net on a feed from Montreal's Saku Koivu, and the red light went on. However, it was plain to see that the puck went in under the side of the net. I saw it right away, and the goal went to video review. THEY UPHELD IT. Despite multiple camera angles showing that it should not have been. Everyone knows it:
The IIHF formally acknowledged after the game that Koistinen's shot had, indeed, entered the side of the net and should not have counted, and the video-goal judge will not be working for the rest of the tournament.
Coach Tortorella was livid, but admitted they didn't deserve to win, giving up so many chances. It was a very rough game as well, ending with a line brawl, with multiple game misconducts. Fun to watch, but the outcome sucks. Team USA ended up losing 3-2.